IFFA 2019 – Tradition meets innovation
IFFA 2019 turned out to be very successful. From the 4th to the 9th of May 2019 the no. 1 for the meat industry attracted about 67000 visitors from 149 countries. IFFA is the leading exhibition for meat processing companies, where tradition comes upon innovation and progress.
REICH could also show itself both traditional and innovative at IFFA. An exhibition area with 300 m² offered enough space for informative and consulting conversations such as lively exchange between our specialists, distributors and customers. They already made a lot of ideas for the IFFA 2022, which REICH would like to implement soon.
It was also time for suggestions and ideas at our international sales meeting at the beginning of IFFA on the 3rd of May. At this kick-off meeting our sales technologists informed about 50 distributors from all over the world about technical and selling news.
With more than 20 exhibits, REICH presented more exhibition goods than ever before. The new steam smoker, the MaxxSmoker G 710 H considered a lot of attention. This wood chip smoke generator generation more than satisfies the requirements of the industry. The G 700 H series can be supplemented by an external storage tank – an innovation which enjoyed popularity. In addition to the developed innovations more detailed improvements were presented for consisting chambers and smoke generators.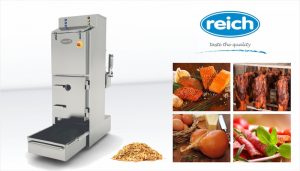 Our visitors were very attracted of the virtual reality room on the booth. In this room the customers could experience the function of REICH chambers in a virtual way. This made it easy to answer technical issues in an understandable and clear way.
REICH's kitchen team catered for the physical well-being of the guests. A three-course menu with seven dishes was offered to pamper the guests with culinary delights.
After six sensational exhibition days and a sharp upturn on orders, we look forward to an equally successful IFFA 2022!
SAVE THE DATE: The IFFA 2022 takes place from the 14th to the 19th of May 2022 in Frankfurt am Main.